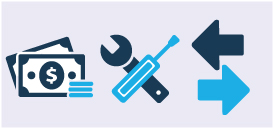 One of the most well-known, influential and longest running rankings of Canadian discount brokerages has been Rob Carrick's ranking of online brokers which appears in the Globe and Mail.  Dating back to 1999, these rankings have covered the changes in the Canadian discount brokerage landscape and have borne witness to the dramatic impact on fees and features that competition has brought about.
In our special series, we look at how Rob Carrick goes about gathering, analyzing and ranking the data to determine who, according to him, Canada's best discount brokerage is.
Included in the reviews are explanations of structure of the rankings, the target audience as well as which brokerages are included and why. We also take a look at how the evaluations have changed over the past 10 years to reflect the shift in priorities and features that self-directed investors use.
Review of Globe and Mail's Discount Brokerage Rankings – Part I
Review of Globe and Mail's Discount Brokerage Rankings – Part II