Mailing Address
360 St-Jacques West,
Suite S-118
Montreal, QC
H2Y 1P5
Website: http://jitneytrade.com/
Email:[email protected]
Phone: 1-866-608-0099
Jitneytrade Review
Updated on: Jun 1, 2020
Jitneytrade is not a name that is as well-known a discount brokerage as some other Canadian online discount brokers. Based out Montreal, they've been around since 2001 providing discount brokerage services that are primarily geared towards active traders.  Like many of the other Canadian discount brokerages, Jitneytrade offers both "registered" and "non-registered" accounts. Registered accounts include tax-free savings accounts (TFSAs), registered retirement savings plans (RRSPs) and registered education savings plans (RESPs).  Fortunately,  there are also US dollar registered accounts. On the downside, however, there are annual charges for their registered accounts (see below) some of which are much higher than their competitors. As a note, for registered accounts you cannot use margin or short stocks.  When you land on Jitneytrade's website, it is remarkably uncluttered and easy to navigate.  While there is not a lot of unnecessary information, there is also a lot that the website doesn't really tell you.  One of the most distinguishing features of this discount brokerage firm is their wide selection of trading platforms – almost a dozen or so.  Because they have catered primarily to very active traders, Jitneytrade also offers a customized pricing structure that depends on volume of shares traded.  The more you trade, the lower your commission per trade.  For the very active trader, they are also willing to tailor a pricing plan that matches your trading style. Just how "active" is "active"? Well, that's actually negotiable, because it is based on volume of shares traded not necessarily frequency of trades placed (i.e. the number of shares traded per month can happen in one day or be spread out over the month).  For clarification, it is certainly worth a call to see what kind of pricing one can get.
The Bottom Line
Very active traders, including day traders, are able to get substantially better commission rates than those currently posted on the website, however it will require negotiating that with the Jitneytrade sales team.  One thing that definitely makes Jitneytrade stand out from their discount brokerage peers is their wide platform selection and its pricing.  For less active traders, the rates, while not the cheapest, are certainly not the most expensive either, at least for the non-registered accounts.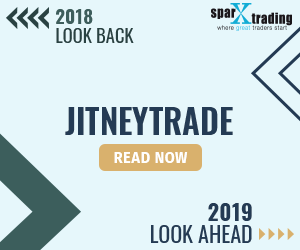 Quick Info
| | |
| --- | --- |
| Standard Equity Commission | $19.99 |
| Best Commission Price | $9.99 |
| Minimum to Open Account | Not Required |
| Maintenance Fees | $20/month |
| Commission Free ETF | No |
Account Types Offered
Funding Requirements and Fees
Registered Account Types and Fees
TFSA
Minimum Opening Balance
Not Required (for Cash Acct) $15 000 (for Margin Acct)
TFSA
Annual Charge
$20
RRSP
Minimum Account Balance
Not Required (for Cash Acct)
Transfer Out
$125 (Full)
$50 (Partial)
RESP
Minimum Balance for Best or Discounted Commission
Not Required
Withdrawals
$0
Cash
Minimum Commission per Equity Trade
$8.99* [lower rate available depending on trading volume]
US Dollar Account
Margin Short
Maximum Commission per Equity Trade***
$19.99
RRSP
Annual Charge
$125
Margin Options
Minimum Trades per Quarter for Best Commission Rate
30 [note: it is actually a minimum of 10 trades/month to maintain best pricing]
Transfer Out
$125 (Full)
$50 (Partial)
CIPF Member
Inactivity or Maintenance Fees
$20/month
US Dollar Account
Conditions for Inactivity/Maintenance Fees
if 0 trades are placed in a month
RESP
Annual Charge
$125* (*for 1 or more registered accounts)
Transfer Out
$125 (Full)
$50 (Partial)
US Dollar Account
Last updated: Mar. 8, 2016
Pricing & Fees
For most investors or less active traders, Jitneytrade offers a fairly straight forward pricing structure. The commissions per trade are $9.99 + ECN and exchange fees, regardless of order size or stock price. Jitneytrade also has a volume based pricing structure that caters to highly active traders. Their best rate tier is for volumes of 15 million shares (or more) per month and the pricing associated with that is $2.50 per ticket (per stock, per side, per day) + 0.0005/share (applicable only to Canadian equities) with ECN fees extra. Options pricing starts at $1.25 per contract.  The best pricing offered by Jitneytrade is for Canadian equities and options. If you're looking for a volume-based pricing provider, be sure to contact Jitneytrade for their per share pricing on US equities is higher than for Canadian equities. Their choice of platforms is impressive as well as the fact most level 1 data feeds on most major exchanges are included in the pricing (with the exception of the TSX Venture which is an additional $24-$26 depending on the platform). The minimum account balances don't apply to "cash" accounts but are in place to open a "margin" account. There are inactivity fees ($20/month) however the threshold to avoid them is fairly low – coming in at one trade per month in any account, registered or non-registered.
Accounts
Like their peers, Jitneytrade offers cash and margin accounts as well as registered accounts such as RRSPs, RESPs and TFSAs. Given their focus on active trading and traders, however, registered accounts are not typically the reason people seek out Jitneytrade. That said, they are one of the few providers that caters to ultra-active traders and also have Canadian registered accounts.
Platform/Data
Jitneytrade is one of only two Canadian brokerages that allows users to select from a variety of trading platforms. In total there are 10 platforms (for equities, 4 for futures) ranging from basic to professional. Trial/demo versions of certain platforms are available upon request.

Reviews & Ratings
Compare
Coming Soon
What Would You Like to do Next?
Research Another Discount Broker

Research Another Discount Broker