Whether you're attending the Vancouver Resource Investment Conference happening January 20th -21st as an exhibitor or as an attendee we've put together some resources that will help you maximize your conference experience. Continue below to access our free white paper, attendee strategy guide, event infographic and our special twitter channel with regular updates on the conference. Also check out our parking rate section at the bottom of the page to see where to park and also how to get the best parking rate in the area.
Exhibitor Resource – White Paper
| | |
| --- | --- |
| | How will you know if your next conference was worth the money you've spent on it? Attending a conference is marketing, and to do marketing right, you have to measure, measure, measure. With five simple tips, our complimentary whitepaper will help your company understand what steps to take and what metrics and analytics to focus on in order to maximize the return on your marketing dollars. |
Attendee Strategy Guide
| | |
| --- | --- |
| | Planning on attending VRIC 2013? With over 500 exhibitors, hundreds of presentations and thousands of attendees, the Vancouver Resource Investment Conference is one of Canada's largest mining related conferences. Navigating the maze of companies just got a lot easier with our strategy guide designed specifically for savvy attendees. We've mined the data on the exhibitors and attendees to help you focus on the companies and talks that matter to you. Download our free attendee strategy guide to this year's VRIC below. |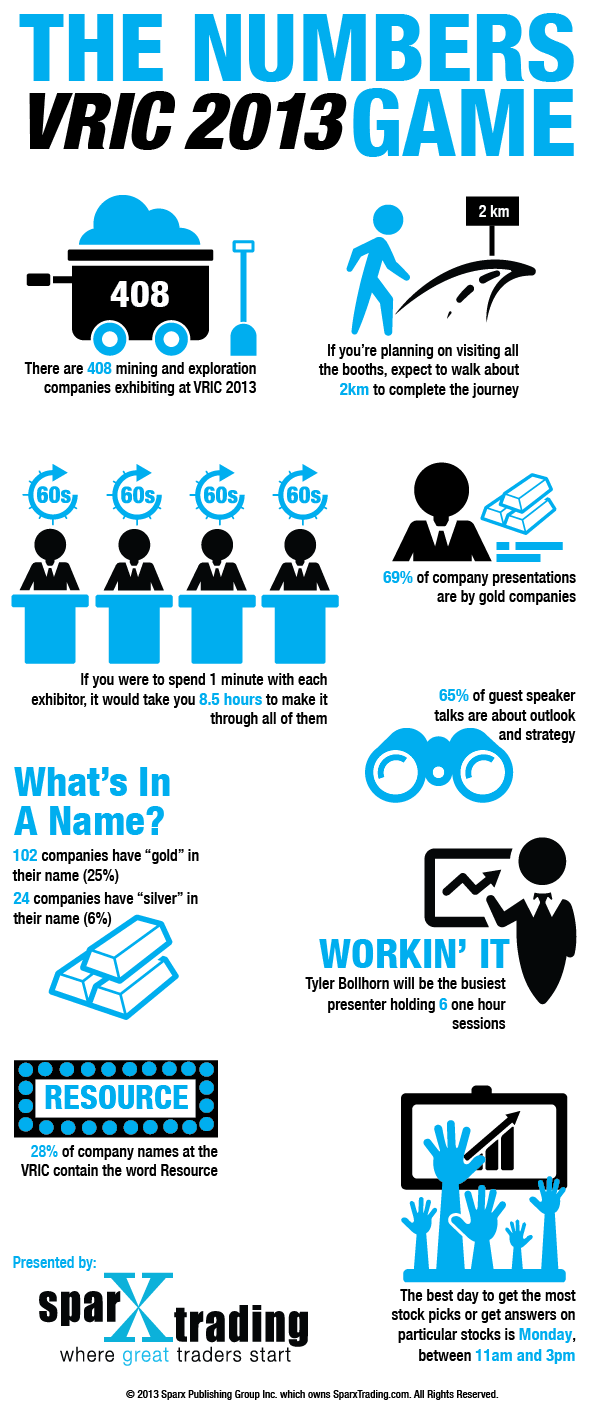 Videos From The Vancouver Resource Investment Conference
Latest From Twitter About VRIC 2013
Parking and Parking Rates Around VRIC 2013
If you're planning on driving to the VRIC, the rates can get fairly steep.  Parking meter rates in the area will run about $6 per hour even on the weekends, so unless you're planning on dashing in and out, chances are that you're going to need to find a parking garage.  Of course, knowing how much walking you're going to be doing in the conference you probably don't want to add to your trek.  We tracked down some nifty options for parking around the conference that can help keep more of your money in your pocket.
For reference, if you want to park in the convention centre, the rate is $29 for the full day.  On the Sunday, we found an Easy Park underground lot that was 3 minutes walk away and $7 flat for the entire day at 900 West Cordova Street.  For day 2, you can expect to pay more for your parking, however there are some options to save some money.
First, the same parking garage rate for all day parking on the Monday is $18.50 as long as you're out by 6PM (after which point an additional $7 will be charged).  Another option which is a little further away is the parking garage at 550 Hornby street which is about an 8 minute walk and will cost $15.  If you're going to carpool, then you can actually take advantage of a carpool discount of 25% off the daily maximum rate at another nearby garage (EasyPark) at 535 Hornby street. Just make sure you ask the cashier for the discount and the total should come out to about $17.25.
Here's a handy map that can show you more parking options around the conference area: