Mailing Address
700 – 1111 Georgia Street
Vancouver, BC
V6E 4T6

Email Address: support@credentialdirect.com
Phone: 1-877-742-2900
Customer Service Hours: Mon to Fri 6:00 a.m. to 5 p.m PT
Credential Direct Review
Updated on: Feb 3, 2016
Credential Direct is an independent online brokerage headquartered in Vancouver BC. Although they may not be as recognizable name in the online discount brokerage world as many of their peers, they've been around since 2000 and are part of Credential Financial Inc. Credential Direct primarily partners with credit unions to provide their clients with access to online trading accounts.
Like its peers, Credential Direct offers clients the ability to trade stocks, ETFs bonds, mutual funds and options in both registered accounts and non-registered accounts.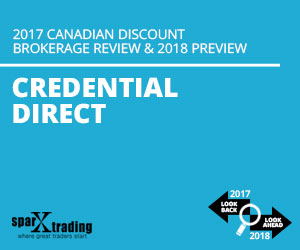 Quick Info
| | |
| --- | --- |
| Standard Equity Commission | $8.88 |
| Best Commission Price | $8.88 |
| Minimum to Open Account | Not Required |
| Maintenance/Inactivity Fees | $25/quarter |
| Commission Free ETFs | No |
Account Types Offered
Funding Requirements and Fees
Registered Account Types and Fees
TFSA
Minimum Opening Balance
Not Required
TFSA
Annual Charge
$0
RRSP
Minimum Account Balance
Not Required
Transfer Out
$135
RESP
Minimum Balance for Best or Discounted Commission
N/A
Withdrawals
$0
Cash
Minimum Commission per Equity Trade
$4.95
US Dollar Account
Margin Short
Maximum Commission per Equity Trade***
$6.95
RRSP
Annual Charge
$100 (if account <$25,000)
Margin Options
Minimum Trades per Quarter for Best Commission Rate
150
Transfer Out
$135
CIPF Member
Inactivity or Maintenance Fees
$100/year
US Dollar Account
Conditions for Inactivity/Maintenance Fees
if account balance is less than $10,000 (fee is waived if client has RRSP, RESP, RIF, LIRA, LIF)
RESP
Annual Charge
$0
Transfer Out
$135
US Dollar Account
Last updated: Mar. 8, 2016
Pricing & Fees
(Updated: July 9, 2014)
Credential Direct has now changed it's commission price structure. Effective July 9, 2014, the commission pricing at Credential Direct has been lowered and simplified so that all clients are eligible for the $8.88 standard commission rate. As such, they are also removing their "active trader" program.  The new pricing structure is much easier to follow than its predecessor.  It should be noted that fees such as SEC fees, ECN fees or any additional stock exchange fee is extra and will be added onto the total commission for a given trade.
Options commission pricing has also been reduced . For active traders, options commission pricing is $8.88 + $1.25 per contract. Note that assignments and exercises of options are priced according to the regular telephone order commission rate.
As part of the new pricing structure, Credential Direct is introducing an "administration fee" of $25 per quarter.  Like some of their competitors, Credential Direct does offer several ways in which clients can avoid having to pay these fees including:
Having a combined (across all accounts) balance of at least $15,000
Making at least 2 commission generating within a quarter
Have an active pre-authorized contribution plan of at least $100 per month
Clients who have had their account for 6 months or less are also exempt from the administration fee.

Account Types
Credential Direct offers clients both non-registered and registered online trading accounts.
Non-registered trading accounts with Credential Direct include both cash and margin accounts. For their margin accounts, a minimum balance of $2,000 must be maintained.
Their registered accounts include tax-free savings accounts (TFSAs), registered retirement savings plans (RRSPs) and registered education savings plans (RESPs). For registered accounts clients cannot use margin or short stocks.
While clients can trade US stocks, Credential Direct will charge mandatory foreign exchange fees in both registered and non-registered accounts, so it is important to consider the amount of trading of US-listed securities as this activity can add to the cost per trade.
Platform/Data
The online trading platform offered by Credential Direct is a fairly standard web browser based interface. Basic functionality is available for order entry as well as for conducting technical analysis research. There are 'real time' quotes available as part of their standard platform. In addition to the desktop site, there is also a mobile website available which users can trade and manage their account from.
Reviews & Ratings
Review
What Review Measures
Score
Date of Ranking
Dalbar Canada Review
Client Service
Not Rated
Not Rated
January 2015
January 2014
Globe and Mail Review
Overall Impression
Letter Grade "D"
Letter Grade "C"
11th out of 12
Letter Grade "C"
8th out of 12
Letter Grade "C"
9th out of 12
Letter Grade "C"
February 2018
December 2016
December 2016
December 2015
December 2015
November 2014
November 2014
November 2013
JD Power Review
Investor Satisfaction
Not Rated
Not Rated
Not Rated
Not Rated
Not Rated
September 2017
September 2016
September 2015
September 2014
September 2013
Compare
Coming Soon
What Would You Like to do Next?
Research Another Discount Broker

Research Another Discount Broker