National Bank Direct Brokerage Review
Updated on: Feb. 8, 2019
Over the course of 2013, National Bank Direct Brokerage (NBDB) made a number of upgrades to its websites (mobile and main website), pricing, customer experience and recently opened a 'do-it-yourself investor' zone in downtown Montréal. In addition to the numerous upgrades and initiatives, they were also the recipients of the 2013 J.D. Power Award for Investor Satisfaction among Canadian discount brokerages.
As they are a bank-owned online brokerage, National Bank Direct Brokerage (NBDB) offers the convenience of branch services as well as being able to manage other National Bank financial products with via the standard National Bank online interface.Like their peers, National Bank Direct Brokerage offers online trading in stocks, ETFs, mutual funds and bonds.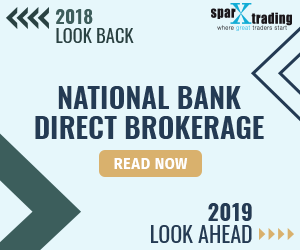 Quick Info
| | |
| --- | --- |
| Standard Equity Commission | $9.95 |
| Best Commission Price | $6.95 |
| Minimum to Open Account | Not Required |
| Maintenance/Inactivity Fees | $100/year |
| Commission Free ETFs | No |
Account Types Offered
Funding Requirements and Fees
Registered Account Types and Fees
TFSA
Minimum Opening Balance
Not Required
TFSA
Annual Charge
$100 per year (if account is <$20 000 or if <5 commission generating transactions done between June 1st & May 31st)
RRSP
Minimum Account Balance
Not Required
Transfer Out
$150
RESP
Minimum Balance for Best or Discounted Commission
Not Required
Withdrawals
$0
Cash
Minimum Commission per Equity Trade
6.95
US Dollar Account
Margin Short
Maximum/Standard Commission per Equity Trade
9.95
RRSP
Annual Charge
$100 (if account is <$20 000 as of May 31st or if <5 commission generating transactions done between June 1st & May 31st)
Margin Options
Minimum Trades per Quarter for Best Commission Rate
30
Transfer Out
$150
CIPF Member
Inactivity or Maintenance Fees
$100/year
US Dollar Account
Conditions for Inactivity/Maintenance Fees
$100 per year (if account is <$20,000 or if <5 commission generating transactions done between June 1st & May 31st)
RESP
Annual Charge
$100 per year (if account is <$20 000 or if <5 commission generating transactions done between June 1st & May 31st)
Transfer Out
150
US Dollar Account
Last updated: Mar. 8, 2016
Pricing & Fees
Early in 2014, National Bank Direct Brokerage lowered their standard commission fees to $9.95. Now that NBDB has updated their pricing, what a trade commission costs with NBDB depends on the activity level of the client.
The standard equity trade commission at National Bank Direct Brokerage is $9.95 for all clients regardless of account balance. For active traders (defined as those who trade at least 30 times per quarter) commission rates range between $6.95 per equity trade and $9.95 per trade. What active traders pay depends on the price of the share, with shares at $2.00 or less being charged 0.05% of the value of the transaction (to a maximum of $9.95/trade) and shares of $2.01 or more being charged at $0.01/share (to a maximum of $9.95/trade).
An important consideration for potential NBDB clients is the inactivity/administration fees. At the end of 2013, NBDB revised their administrative fees such that individuals with at least $20,000 in combined assets by May 31st of a given year or who make at least 5 commission-generating transactions (e.g. stock, ETF or options trading) between June 1st and May 31st can have their inactivity fees waived. For those who do not meet these criteria, an annual fee of $100 is charged.
Account Types
The product offering from NBDB includes registered and non-registered accounts in which clients can trade Canadian and US stocks, ETFs, mutual funds, bonds and options.
The registered accounts offered include tax-free savings accounts (TFSAs), registered retirement savings plans (RRSPs) and registered education savings plans (RESPs). At the time of writing, there are also plans to roll out US dollar versions of the registered accounts. For the moment, these registered accounts can accept deposits in USD and clients can trade (and hold) USD equities, however withdrawals from the account will result in a currency conversion back into CAD.
As with other brokerages, margin cannot be used with registered accounts. Options trading in registered accounts is limited to buying and selling options as well as covered calls.
In the non-registered investment account category, clients can trade with cash and margin accounts. For clients who would like to "short sell" stocks, a margin account with short selling is required.
Platform/Data
National Bank Direct Brokerage has platforms geared towards longer term investors as well as active traders. Their standard (or "Classic") platform is similar to most online trading platforms offered by discount brokerages.
For active traders, NBDB offers Market Q (this is from Interactive Data the same company that owns eSignal) to track stocks and to conduct advanced technical analysis. As it is built off a similar platform to eSignal, the charting and sophistication of data available is robust. While order entry is possible from within Market Q, monitoring open positions as well as win/loss and other trading stats is not.
The data feed for Market Q ranges from Level I (real time information on most major North American markets) to Level IV (market depth on TSX-V). Pricing for data for Market Q depends on a client's activity level. Pricing for Level I quotes starts at $39/month and can go to $148/month for Level 4, for individuals trading between 0-9 trades per month. For those clients trading 100+ trades per month, Market Q data fees are waived. More information about data pricing and trading level discounts is available on the NBDB website.
Finally, National Bank Direct Brokerage also offers a mobile website which can be accessed by most mobile browsers. The essential functionality required for placing an order, managing funds and tracking order status can be conducted via the mobile website. Click the following link for our in-depth review of National Bank Direct Brokerage's mobile website.
Reviews & Ratings
 Review
What Review Measures
Score
Date of Ranking
Dalbar Canada Review
Client Service
Above Average
Above Average
January 2015
January 2014
Globe and Mail Review
Overall Impression
Letter Grade "B-"
Letter Grade "C+"
Letter Grade "C+"
9th out of 12
Letter Grade "C"
8th out of 12
Letter Grade "B-"
7th out of 12
Letter Grade "C"
February 2019
February 2018
December 2016
December 2016
December 2015
December 2015
November 2014
November 2014
November 2013
JD Power Review
Investor Satisfaction
8th out of 8
6th out of 8
9th out of 10
1st out of 10
1st out of 10
2nd out of 7
1st out of 11
June 2019
September 2018
September 2017
September 2016
September 2015
September 2014
September 2013
MoneySense
Top Pick – ETFs
Top Pick – ETFs
Runner Up – ETFs
June 2019
July 2018
July 2017
Compare
Coming Soon
What Would You Like to do Next?
Research Another Discount Broker

Research Another Discount Broker